WHY SARATHI HEALTHCARE
Parents and children share a special bond of affection for life. As parents grow old, the role of caregiver reverses. When you are living away from your parents, you are constantly worried about their health. However, nurturing your parents can be a demanding job and requires competence. Sarathi offers the entire premium quality services to meet the basic and advanced medical wellness requirements of the elderly people. Sarathi gives the opportunity for children to take regular care and monitor the health of their parents.

The recent lockdown situation has gravely highlighted the inadequate health care services available for the elderly living in tier-2 & below cities and we at 'Sarathi Healthcare' aim to provide premium healthcare services with personalized recommendations. Remember, your parents deserve the best of everything.
Our mission is to provide easy access to essential healthcare services to the elderly through our personalised care.
We intend to become the leading Elderly Care platform to bring positive changes in their life with personalised care.
Sarathi harbors the vision of becoming a true 'Health Companion' to the elderly for their holistic well being.
Our team is driven to innovate and set new standards through our premium healthcare services to meet the highest expectations of our valued customers.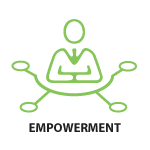 OUR STORY
Shravan is a highly ambitious marketing professional living in Bangalore away from his parents for the past 12 years now. Over the years, he felt apprehensive about his parent's health, as he remains mostly unavailable due to his work commitments. In fact, it is impossible for him to leave his job and move back to his home-town, also his parents are too infirm to travel. Most professionals face similar predicaments and opt for compromised solutions due to lack of resources or options. Also, the health care services are quite inadequate in tier-2 cities which cannot serve the ever-growing demand of efficient healthcare services.

Shravan is you, Shravan is me, Shravan is one of our colleagues. Shravan is our boss. The story of Shravan is our story.
Sarathi Healthcare is the coming together of like-minded, passionate individuals who want to seek answers and provide holistic healthcare services for the elderly care segment. We mean to provide customer-centric services for healthier parents and grandparents.
ABOUT US
Welcome! To the world of Sarathi Healthcare, the premium healthcare provider to elderly with top-notch services that brings 24 x 7 medical services at your doorstep at times of need. We provide end-to-end services to ease the troubles of the elderly in accessing their medical requirements. We are always there to guide, assist and take care of them in the best possible way.

Distance is no longer a Barrier - With the help of Sarathi healthcare; family members can now monitor the health status, reports as well as the appointments of the elderly.
Effective Healthcare Solutions Provider for tier 2 cities – It is easy to access our portal for essential medical services for basic medical and wellness needs of the elderly.
Health is number one priority - Older people who stay alone are more prone to increased health risks due to negligence. Our team is committed to simplify healthcare, ensuring maximum care and convenience for them